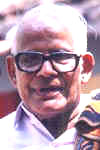 Olappamanna Subramanian Nambudiri
Olappamanna Subramanian Nambudiri, Malayalam poet. Born on 10th January 1923 at Vellinezhi in Palakkad. Got well versed in Vedas and Sanskrit.
He was acted as the director board member and vice-president of the Sahithya Pravarthaka Sahakarana Sangham from 1965 to 74. He was a member of the general council of Kerala Sahithya Academy and Kerala Kalamandalam, Indian Council for Cultural Relations and the director board of Kerala Sangeetha Nataka Academy. He was also the Chairman of Kerala Kalamandalam twice.
Olappmanna heralded progressive ideologies in Malayalam poetry. His first poem got published in 1942. 'Varinellu','Suphala', 'Eheesoonari', 'Dukhamavuka Sukham','Olichu Pokunna Njan', 'Ilathalam', 'Kilungunna Kaiyamam', 'Kulambadi', 'Kalpana' and 'Veena' are his collections of poetry. Other works are 'Theethailam', 'Paanchali', 'Nangemakkutty' (Khandakavyas), 'Aanamuthu' (Mukkavitha), 'Amba' (Aattakkavitha) and 'Jalakappakshi' (selected poems).
His 'Nizhalana' bagged the Odakkuzhal award of Guruvayoorappan Trust in 1988 and Kendra Sahithya Academy award in 1989. 'Ashareerikal' was given the Madras Government prize for best Malayalam poem. 'Kathakavithakal' got the Kerala Sahithya Academy award for the year1966.He passed away on 10th April 2000.